Mississippi Horses is proud to showcase the success stories of the rescues.  In addition, it is always great to hear from adoption owners on how the adopted equine impacts the family.  These successes are the testament to the hardworking managers, volunteers, trainers, and fosters.  
3AM Will Never Wander Again--at 3AM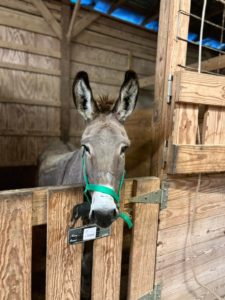 When this handsome fellow arrived at the rescue, the rumor was he was wild and very difficult.  After giving law enforcement a run for their money at 3AM, they thought he would never be tamed.  Apparently, the donkey had either been released to fen for himself or he escaped his fence and was on the lam.  Either way, 3 AM had been on his own for a long time and had some close calls with automobiles and trucks.  He had very little trust of humans and it showed in the efforts to apprehend him.
In order to better evaluate 3, he was stalled for a few days.  At the rescue, he found people who loved him.  "Just look at those ears!"  
"Awe! What a cute face!"
"I just want to pet him!" 
Volunteer all wanted to feed, pet, and love him.  Although very reluctant to receive humans–after all, these humans were feeding him-he finally allowed some interaction!  After a few days, 3 was a little more receptive.  The rescue volunteers are great at conditioning the new intakes and getting them used to humans.  They get A LOT of attention.
Once out in the main pasture with the largest part of the herd, 3 AM was even more popular with the mares.  He was giving Loki a run for his money with the ladies.  Meanwhile, people were hearing about his story and seeing pictures of him on Facebook, and the adoption requests began coming into the rescue.
Adoption for the rescues is an easy yet thorough process.  let's face it, all horses and donkeys and mule at the rescue are cute and handsome.  It is important that adoptive hopefuls come in and meet the adoptees.  Especially with donkeys, people need to know what to expect.  
The perfect family arrived at the rescue to become his forever family.  He hopped into the trailer and arrived to live out his life with new friends and family.  Take a look at the cute pictures and see how he loves his new digs and his new human.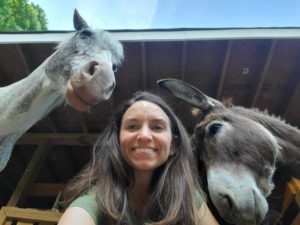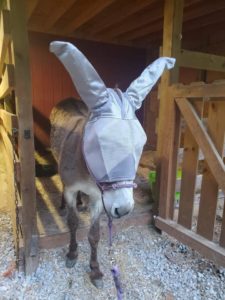 Once upon a time, there was a little orphan horse that grew and grew and grew. . . .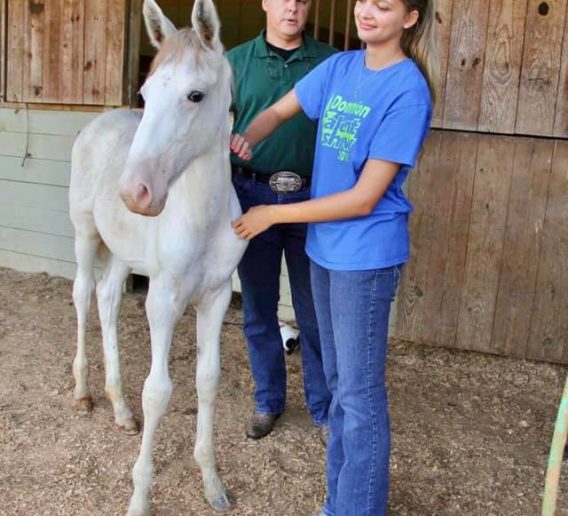 He was just 2 weeks old when Mother Nature changed his life forever. A dark stormy night, winds howling, lightning illuminated the sky and the tornado came out of nowhere and took the only family he had, his Mother. We got the call about an abandoned baby and so we strike out to bring him back to the rescue. When we arrived the gentleman stated he was somewhere on the 300 acres, we just knew we would never find him.
….But by some miracle this little boy was waiting on us like he knew we were coming to help. He walked out of the twisted trees that were left from the horrific storm and literally jumped in the trailer. He was ready to go and leave that dark, scary night behind.
He arrived at the rescue as if he owned the place and from that night he did. Smokey grew up thinking he was a human and not until later he realized he was so much more. Smokey was such a big boy and continued to grow into the giant he is today. He still thinks he is part of the human race and loves attention. He is so much like a toddler that he will throw a little tantrum if he is not the center of attention.
As he grew his body was literally growing faster than his bones and tendons. He has had two surgeries to cut and stretch the tendons on his front legs to help him walk. He will be lame for the rest of his life but that does not stop him. He runs, he plays, he terrorizes Loki and he doesn't let his disability hinder his life.
If you are looking for a big, goofy love bug, Smokey is your boy. He doesn't mind being the only child or with 1 other horse. He will do much better alone or a small herd. He will bring constant entertainment to your life, not to mention he is solid white and over 18hh so he will definitely be a beautiful pasture ornament.
Please contact us if you are interested in adopting or fostering Smokey. He deserves all the happiness this world has to offer, will you be his happiness????